Apliweld® Secure+: the efficient exothermic welding
Select moulds, loads and accessories according to type of joint
SOFTWARE APLIWELD SELECTOR+
Project grounding grids with exothermic welding
ADVANTAGES OF APLIWELD® Secure+
Exothermic welding is the result of a process that achieves the molecular union of two or more metallic conductors through a chemical reaction. This molecular bond improves the mechanical, electrical and corrosion-related properties with respect to any mechanical connection.
The innovative tablet format of Apliweld® Secure+ and the electronic ignition offers much more efficient results, saving costs and providing an extra in security.

Perfect unions
The exothermic welding Apliweld® Secure+ is the best mode to make permanent, reliable and high conductivity connections in every installation that requires earthing connection. The molecular union, not only mechanic, ensures the connection during the lifetime of the building in a well-defined process.
Cost saving
The unique tablet format of the Apliweld® Secure+ for any type of connection, it reduces logistics costs, minimizes errors and preparation times and increases the efficiency of the process, even in windy or humid weather conditions.
Improves the labour security
Apliweld® Secure+ guarantees more security thanks to the wireless electronic ignition, now even via wireless control with Bluetooth activation and the use of non-flammable material for ignition. The electronic remote ignition is officially recommended by international labor entities. The products that form the Apliweld® Secure+ are:
Apliweld® – T: Composed of universal welding in tablets.
Apliweld® – F: electronic initiators.
Apliweld® KIT – E: Electronic ignition equipment.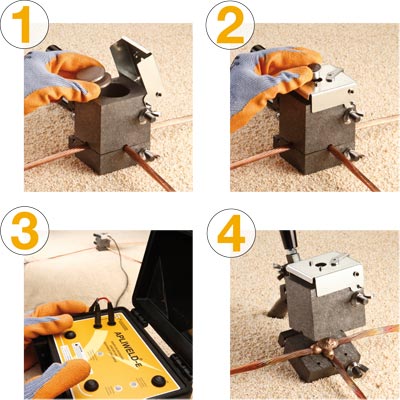 How it works?
Greater convenience of usage and security in four steps:
Put the APLIWELD®-T tablets in the graphite mould hopper. The number of tablets is indicated in every mould.
Place the APLIWELD®- E over the lid and connect the clamps.
At the same time, press the two buttons of the KIT APLIWELD®-E ignition system or the Wireless control.
Take the weld.