Aplicaciones Tecnológicas, leader in lightning protection systems, is organizing free online courses aimed at professionals in the sector. During April and May we will be holding webinars on two products: ATSTORM®, a thunderstorm detection system for labour risk prevention, and Apliweld® Secure+, an exothermic welding system in tablet format with remote electronic ignition.
ATSTORM® Webinar: The expert thunderstorm detection system.
Lightning is an unavoidable natural phenomenon that represents a serious threat to people, property and services. According to a study conducted by the USA insurance industry, lightning strikes can produce annual losses for more than five million dollars (Hartford Insurance Co., 2006).
The use of a lightning detection system allows us to detect a possible risk with the maximum anticipation and therefore to deploy temporary preventive actions capable of preventing or minimizing any possible damages.
ATSTORM® is the lightning detection system of Aplicaciones Tecnológicas. Unlike other systems, ATSTORM allows us to know about thunderstorms formed over the area to be protected as well as incoming thunderstorms. This feature makes ATSTORM a complete system able to anticipate information that allows to initiate preventive actions in order to minimize the risk posed by a lightning strike. During the webinar, we will be explaining the lightning detection system and the preventive actions recommended by the sector along with some of the successful cases of Aplicaciones Tecnológicas.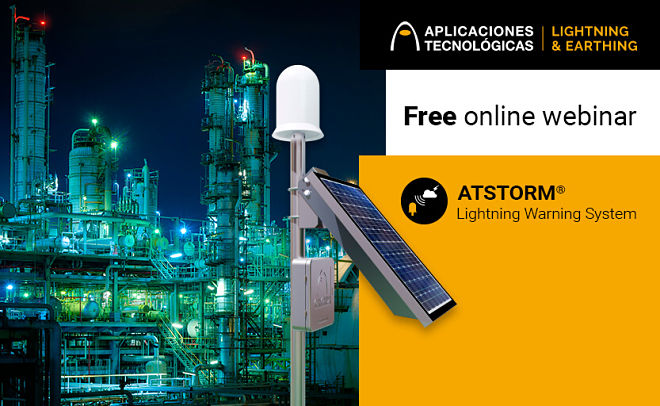 Apliweld® Secure+ Webinar: The exothermic welding in tablet format.
The exothermic welding, also known as aluminothermic or copper-aluminothermic welding, is a chemical process with the purpose of obtaining a permanent molecular union in metals. It is used in the earthing systems to connect the different parts of an electric system to the conductive surface of the earth to guarantee safety.
Apliweld® Secure+ is the exothermic welding developed by Aplicaciones Tecnológicas. The advantages of this kind of welding welding are the replacement of the traditional welding powder for the tablet format and the remote electronic ignition. These innovations allow to reduce operational costs and increase labour safety.
In the webinar we will be explaining the improvements offered by Apliweld Secure+ compared to the traditional mechanical union. You will also be able to learn more about the functioning of the remote electronic ignition with an electronic initiator.
If you are an engineer or technician related with the sector and you would like to know about the solutions offered by Aplicaciones Tecnológicas first-hand, you are welcome to attend the free webinar for your country.
A calendar of all the courses for April and May is detailed as follows:
Tuesday, 23rd April 2019
Friday, 26th April 2019
Tuesday, 7th May 2019
Thursday, 9th May 2019
Tuesday, 14th May 2019
Thursday, 16th May 2019
Thursday, 23rd May 2019
We are happy to invite you to the free online webinar for your country. If you would like to contact directly with your area manager, do not hesitate to do it through this form.