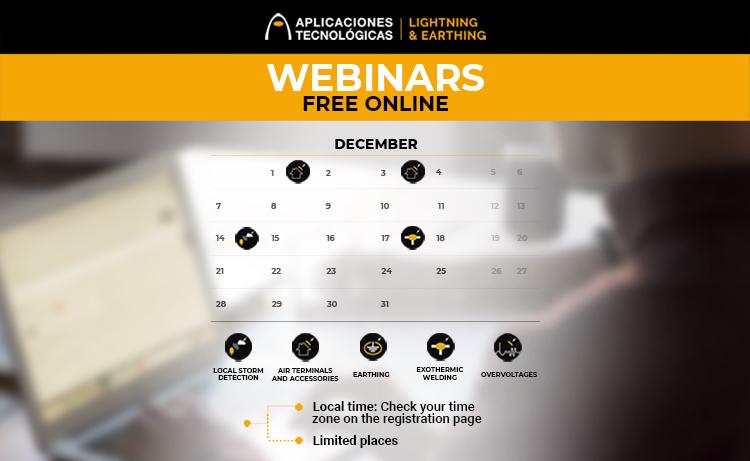 Aplicaciones Tecnológicas offers you the upcoming free online webinars for professionals in November and December. 2020. Registration will be free and there is limited space. Do not miss the opportunity to learn about the latest news in the sector from the hand of specialized technicians.
If you want to participate in these training sessions, find the topic that interests you in your language, the course organized for your country and check the schedule. By clicking on the link, you can register to participate. Below, you can check the free online webinar schedule for the remainder of November and December 2020 classified by topics to be covered. You can also check the schedule on our webinar page.
ATSTORM® Webinar: the expert thunderstorm detection system
Our specialists will explain how to prevent accidents arising from lightning strikes with the use of efficient and innovative storm detection technology: ATSTORM® system. The ATSTORM® systemallows you to know both about the thunderstorms that are approaching the area to be protected and those that are being formed over it. It is a complete system of advanced information with which to initiate preventive actions that minimize the unwanted consequences of lightning strikes.
Aimed at: those responsible for occupational health and safety, prevention technicians, directors of operations or innovation and those responsible for maintenance, amongst others.
Spanish
Wednesday, 18th November 2020
Wednesday, 25th November 2020
Wednesday, 2nd December 2020
Monday, 21st December 2020
English
Monday, 16th November 2020
Monday, 14th December 2020
French
Tuesday, 1st December 2020
Webinar for lightning rods with early streamer emission (ESE) DAT CONTROLER® REMOTE
No device can prevent the strike of lightning, but we can minimize or even prevent the damage it can cause to buildings, equipment and people by installing a complete system of protection against atmospheric electrical discharges. Early Streamer Emission Air Terminal, an active Lightning rod also known as an ESE, base their operation on the electrical characteristics of the lightning formation. This type of lightning rod is characterized by emitting a continuous ascending tracer before any other object within its protection radius.
Aimed at: electrical installers and storers, company technical staff, students and graduates in technical and professional branches related to this sector.
Spanish
Wednesday, 2nd December 2020
Thursday, 3rd December 2020
English
Wednesday, 18th November 2020
Tuesday, 1st December 2020
Thursday, 3rd December 2020
French
Thursday, 26th November 2020
Tuesday, 15th December 2020
Russian
Tuesday, 24th November 2020
Tuesday, 15th December 2020
Apliweld® Secure+ Webinars: the most efficient and secure exothermic welding in the market
Exothermic welding is a chemical process with the purpose of obtaining a permanent molecular union in metals. It is used in grounding systems to ensure the safety of joints between conductors. Our technicians will explain the improvements offered by Apliweld® Secure+ thanks to the replacement of the traditional welding powder for the tablet format and the remote electronic ignition. You will also learn about its main advantages, including savings in operating costs and the prevention of occupational hazards.
Aimed at: all professionals involved both in the design and installation of earthing connections with exothermic welding.
Spanish
Lunes, 23 de noviembre de 2020
Wednesday, 25th November 2020
Wednesday, 16th December 2020
English
Thursday 19th November 2020
Wednesday, 25th November 2020
Thursday 17th December 2020
Russian
Tuesday, 17th November 2020
Webinars for Internal Surge Protection
Surges are an increase in voltage in the electrical network that can cause damage to the installation and electrical equipment of your company and / or home. Aplicaciones Tecnológicas has a wide range of surge protectors that effectively safeguard the most common electrical and electronic equipment, discover more about them in our webinars.
Aimed at: electrical engineers and installers who want to expand their knowledge of how to protect their electrical installations from the effects of overvoltages.
Spanish
Thursday 19th November 2020
Webinar for Earthing
Earthing is a fundamental element of any electrical installation, protecting both equipment and people from dangerous potential differences. Discover the products, solutions and calculation of grounding connections of Aplicaciones Tecnológicas including the specific ones for lightning protection.
Aimed at: architects, engineers, builders, electrical material distributors and electrical installers involved in the design, marketing or installation of grounding systems.
Spanish
Wednesday, 18th November 2020
Thursday 17th December 2020