Air terminals and accessories, conductors and earthing components for lightning protection systems
Lightning is one of the most naturally destructive phenomena. There is no device capable of preventing the formation of lightning, but it is possible to minimize its effects with a lightning protection system.
Which are the elements that compose an integral lightning protection system?
Air termination system:
Air terminals (Early Streamer Emission (ESE) air terminals or Franklin rods and meshed conductors.
The lightning air terminal is an essential piece of the lightning protection system. It must be the point of controlled impact of a discharge, so as to provide the lightning current with a path to ground without damaging the protected structure.
ESE Air Terminals are characterized by emitting a continuous upward leader before any other object within their protection radius. The DAT CONTROLER® line from Aplicaciones Tecnológicas DAT Controler Plus and DAT Controler Remote) have passed all tests according to the regulations and have the best operational guarantees.
Protection by Franklin rods and meshed conductors consists in distributing and dissipating the discharge current of lightning through a network of down conductors and earthing systems. The installation, sections and materials must comply with the provisions of the standards that define this type of system (series IEC 62305, IEC 62561).
ESE air terminals emit a continuous upward leader before any other object, which increments the protection zone and provides lightning current a safe path to the earthing, thus protecting people and structures within its protection radius.
Lightning protection using franklin rods and meshed conductors is used to share and dissipate the lightning current through a network of down-conductors and earth terminations.
The aim of the down conductors is to drive the lightning current from the air termination system to earth. They require connection and fixing accessories.
Tape, cable and round conductors for lightning protection that follow the norm for the lightning protection systems.
Connection and fixing accessories
Essential components for connecting and fixing the conductors and other elements of the installation. They should reist the lightning electrodynamic effects, the corrosion and other environmental effects.
Accessories to fix them to the structures.
They must be robust, to support the weight of the lightning rod with the mast, and not damage the structures.
Supports for down-conductors.
Test joints that can be opened with the right tools to disconnect the earth from other elements and therefore we can measure them.
Connections that are only activated when installation receives an impact.
It is needed an adequate mast or anchorage to fix the lightning rod in the correct height to protect all of the elements.
Staples for fastening the cables to all types of surfaces.
Mechanical connectors to provide continuity to the lightning protection system.
Additional accessories for the installation of the lightning rod and down conductors.
Earthing and other measures that minimize damages caused by lightning (equipotential bonding, surge protection)
Earthing conducts and disperses the lightning current to the ground. These measures, together with the equipotential bonding, prevent physical damage to structures. However, the effects of lightning can also enter through the service lines themselves. To prevent damage to electrical and electronic equipment surge protection devices are installed.
APLIROD® dynamic electrodes and graphite electrodes for rocky terrains, high resistivity.
Copper-plated steel poles and other materials, easy to install, for low resistivity terrain.
Ground enhancing products
Compounds that retain soil moisture and provide salts to significantly lower the resistance.
Inspection records in which to take measurements of the grounding.
Wide range of earth bars to bond all metal elements equipotentially.
Earth clams for connection between cables, tapes and/or round conductors.
How to achieve a good earthing for a lightning protection installation.
In order to obtain an effective grounding, it is essential to achieve a low ground resistance, using conductors with a high resistance to corrosion and a suitable section to transport the expected current. It is also advisable to bond the connections of said conductors by exothermic or aluminothermic welding Apliweld® Secure+.
Other determining factors when designing an earthing system include:
The resistance should be measured regularly making it necessary to install an earth inspection pit. Aplicaciones Tecnológicas provides these inspection pits.

The soil humidity will reduce the earthing resistance.

Earthing enhancing compounds reduce the soil resistivity.

Buried electricity and gas installations should be identified in order to respect the security distances for each.

Buried pipes and water tanks should be identified in order to equipotentially bond them with the earth system.
To obtain a suitable earth resistance in earthing systems, special electrodes should be used for low-conductivity soils – enhanced electrodes, such as APLIROD dynamic electrodes or graphite electrodes. Deep electrodes or ring conductors may be used.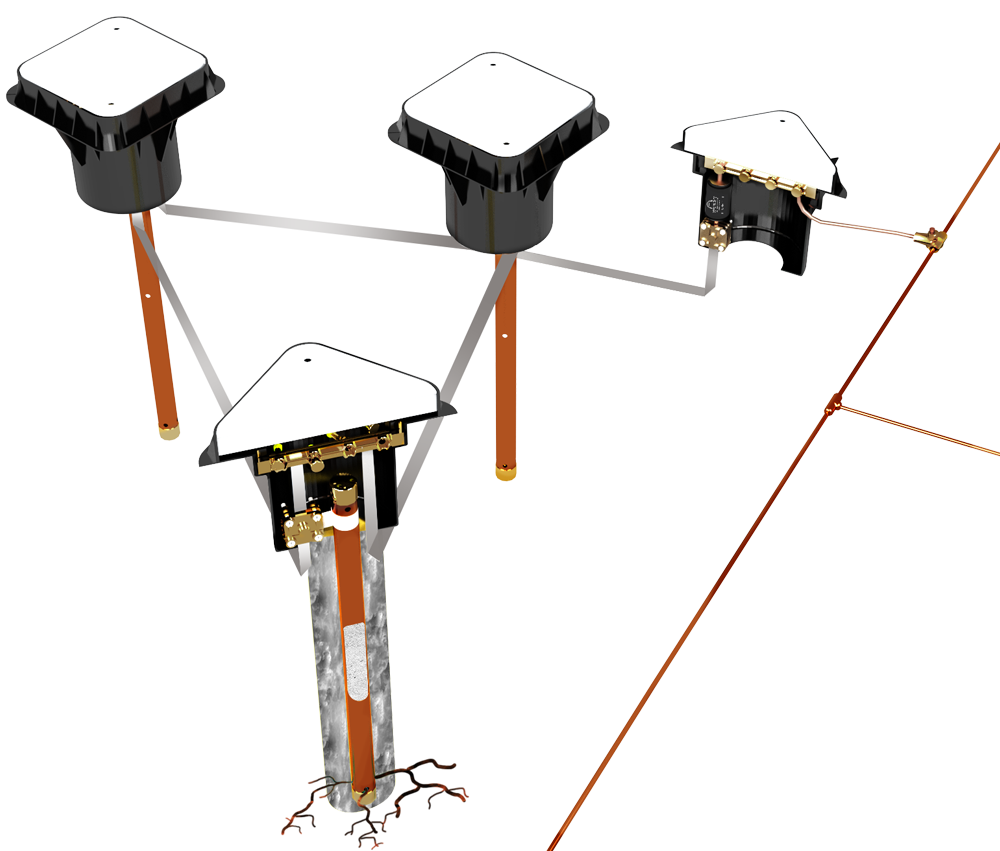 Contact
AIR TERMINALS AND ACCESSORIES, CONDUCTORS AND EARTHING COMPONENT
FOR LIGHTNING PROTECTION SYSTEMS