BIM modeling of our products will facilitate the installation design for external lightning protection for professionals from the start of every constructive project.
BIM is the acronym for Building Information Modeling. This concept involves a particular working method based on collaboration and integration basis and it entails an evolution of the project design, construction and management processes used until now.
Even though the term may be popularly misinterpreted, often becoming mixed up with a specific kind of software, BIM embraces an entire work system.
Using this kind of system allows us to begin managing all of the project information along its entire lifecycle. This immersive methodology involves the construction design and controlled management of the projects as a whole.
BIM Methodology in projects from Aplicaciones Tecnológicas
At Aplicaciones Tecnológicas, external lightning protection system products have been modelled, creating an inclusive solution for engineering and architectural consulting offices. These BIM objects contain the 3D representations of the product, together with the associated metadata, material information, technical characteristics, etc. Thereby, the external protection items can be defined in a BIM construction project as a work unit, containing all the BIM modeled products within.
This kind of solution will allow engineering and architectural consulting offices to work with products integrated into their projects, assisting with technical specification for the installation from the beginning. By doing so, the controlled placement of the lightning protection devices will be made possible, considering elements of other units such as electrical conduits.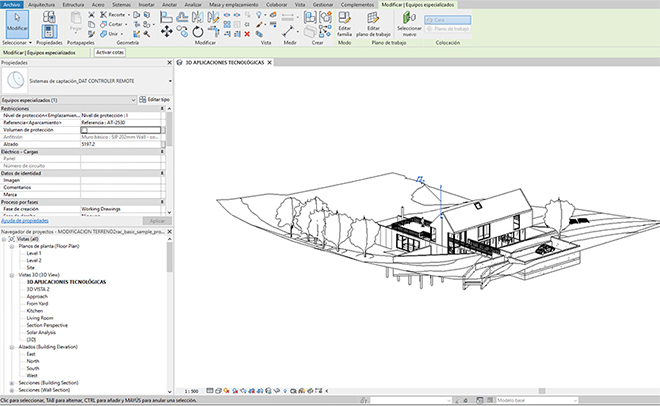 BIM modeling of external lightning protection systems
Aplicaciones Tecnológicas has modeled all of the external lightning protection products, creating several BIM families.
ESE lightning rod BIM modeled products
BIM models for interception systems includes:
Early Streamer Emission Air Terminals:
DAT CONTROLER® PLUS is an Early Streamer Emission (ESE) air terminal based on the electrical characteristics of lightning formation. The air terminal triggers the continuous upward leader before any other object within its radius of protection. In the standards, this feature is referred to as the advance time of an ESE air terminal (ΔT). The quicker the upward leader is triggered, the larger the distance where the downward leader is intercepted becomes, thus protecting a greater area against lightning (standards limit it to ΔT≤60 μs). DAT CONTROLER® PLUS terminals offer the highest performance guarantees: The installation of DAT CONTROLER® PLUS air terminals adhere to UNE 21186:2011, NF C 17-102:2011 and NP 4426:2013. "Lightning protection: ESE lightning air terminals".
DAT CONTROLER REMOTE offers the same benefits and guarantees as DAT CONTROLER PLUS, but also includes a remote verification device that provides data on the status of the lightning rod on a daily basis, using M2M technology.
Adapting piece: This is the fixing accessory for lightning rod installations. It is used to attach the lightning rod to the mast as well as the inner connection of the conductor (tape, cable or solid round).
Masts: Elevation up to 8 m. For attachment of lightning rods using 2 clamps, except those 8 m masts, in which case 3 clamps are required. The distance between supports must be 60 cm. In atmospheres with a high level of corrosion, the use of stainless steel masts is recommended.
Clamps: U Shaped clamp, angle bar, mast to trestle tower clamp, light clamp, parallel clamp, lamppost clamp…
Down-conductor BIM modeled products:
Conductors: Tape, cable and round conductors for lightning protection.
Guard Tubes: Anti-vandal guard for cable or tape down-conductors. In order to avoid the cable breaking due to accidental impacts, it is necessary to install a guard tube, which is at least 2 metres high, guarding the accessible part of the conductor. AT-056G is recommended to prevent touch voltages in public buildings with low resistivity soil.
Lightning event counters: It automatically counts the strikes that impact the lightning protection system.
Earthing system BIM modeled products: electrodes, ground enhancing products and earth pits for earthing and lightning protection.
APLIROD® dynamic electrodes, graphite electrodes, earth rods, ground enhancing gel to increase the conductivity of the ground and earth pits are a few essential elements required to complete the installation of an earthing system.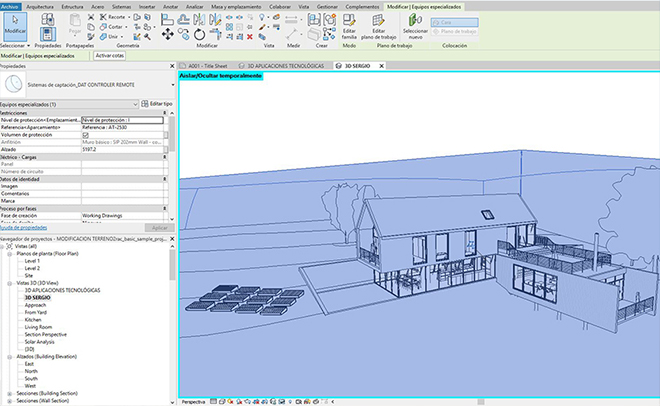 BIM construction projects point to the future
The diffusion of this system in comparison to the traditional method allows the total coordination of the entire building process, optimizing costs and timescales, reducing the execution deadlines and increasing the efficiency of the project.
We can list the advantages of this system in five key points:
Complete integration of collaborative work into a single platform, so that modified information is automatically updated in real time. This information includes information on actual products and materials to be used for construction, recording geometry, characteristics, costs and materials.
Possibility of working both in 3D and 2D, improving the integral vision of each project. This avoids possible inconsistencies between elevation and floor plan views.
Automatic generation of all project documentation, making it easier to locate errors and chart improvements for productivity and cost savings.
BIM families have the design and all the technical information of the product they represent.
Possibility of connecting all the building information allowing to handle other types of valued information, such as the energy impact of the materials used. BIM presents a more environmentally sustainable model.

The BIM Challenge
Aplicaciones Tecnológicas has modelled products of external lightning protection. This innovation has been carried out with the clear intention of providing a more complete support to professionals such as designers, engineers and architect, strengthening the lightning protection in each construction project from the outset.
If you need more information or would like to receive our BIM models, you can contact our technical support department using this link.