Aplicaciones Tecnológicas, specialized in lightning protection systems, organizes free online webinars on two products: the exothermic welding system Apliweld® Secure+ in tablet format with remote electronic ignition and the lightning early warning system ATSTORM®.
These courses are aimed at professionals in the sector and they will take place during June and July. Registration is free and there is limited space, so sign up as soon as possible.
ATSTORM® Webinar: The expert thunderstorm detection system.
Lightning is an unavoidable natural phenomenon that represents a serious threat to people, property, services and environment. According to a study conducted by the USA insurance industry, lightning strikes can cause annual losses for over five million dollars (Hartford Insurance Co., 2006).
In the training course our specialists will explain how to prevent accidents caused by lightning strikes using an efficient and innovative technology: ATSTORM®. This system allows us to detect thunderstorms formed over the area to be protected as well as incoming thunderstorms. This feature makes ATSTORM® a system capable of anticipating information and therefore allows to initiate preventive actions in order to minimize the risk posed by a lightning strike.
The use of a lightning detection system can be helpful for the people responsible of health and safety, occupational risk prevention technicians, operation directors or maintenance managers.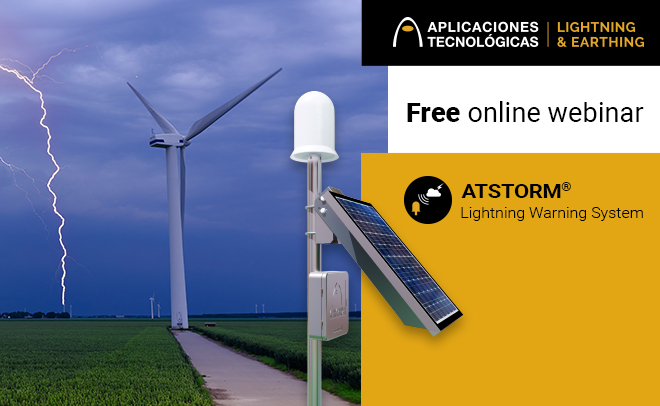 Apliweld® Secure+ webinar: exothermic welding system in tablet format
The exothermic welding, also known as aluminothermic or copper-aluminothermic welding, is a chemical process with the purpose of obtaining a permanent molecular union in metals. Apliweld® Secure+ is the exothermic welding system developed by Aplicaciones Tecnológicas for achieving a permanent molecular union of metals and obtaining a better grounding in earthing systems.
In the training course our specialists will explain the improvements offered by Apliweld® Secure+ thanks to the replacement of the traditional welding powder for the tablet format and the remote electronic ignition. These innovations allow to reduce operational costs and increase labour safety.
This course is designed for engineers, architects and electrical installers.
Below, we provide the complete calendar with all the courses for the coming months:
Tuesday, 25th June 2019
Thursday, 27th June 2019
Tuesday, 9th July 2019
Thursday, 11th July 2019
Tuesday, 16th July 2019
Wednesday, 17th July 2019
Thursday, 18th July 2019
Tuesday, 23rd July 2019
Wednesday, 24th July 2019
Thursday, 25th July 2019