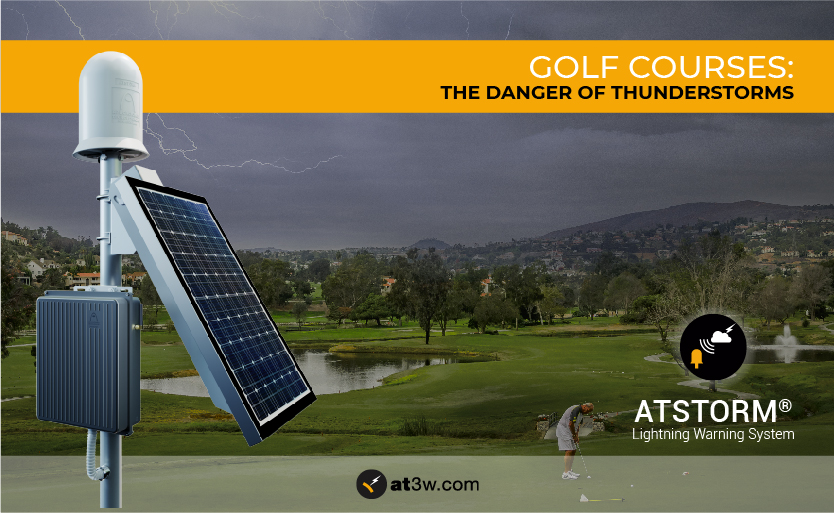 There are two relevant data facts to keep in mind when evaluating the danger of thundersorms in golf courses. Firstly, the annual average of death casualties in golf courses is 13 people worldwide, being the majority due to electrical discharges caused by storms. Secondly, 5% of the total deaths caused by lightning strikes in the US occur in golf courses.
According to studies carried out by the National Lightning Safety Council, 396 people were struck and killed by lightning in the United States from 2006 to 2018. This detailed analysis undoubtedly revealed data to be assessed in order to improve prevention and protection against electric discharges.
The study, carried out by specialist in protection John S. Jensenius, also reflects how leisure activities in free areas contributed with 62% of the total deaths by electrical discharges, while sport, inside those activities, represented only 13% of the total deaths.
The following statistics show the breakdown of deaths related to sport. Football was the sport with the highest number of deaths caused by lightning strikes (38%), followed by golf (31%).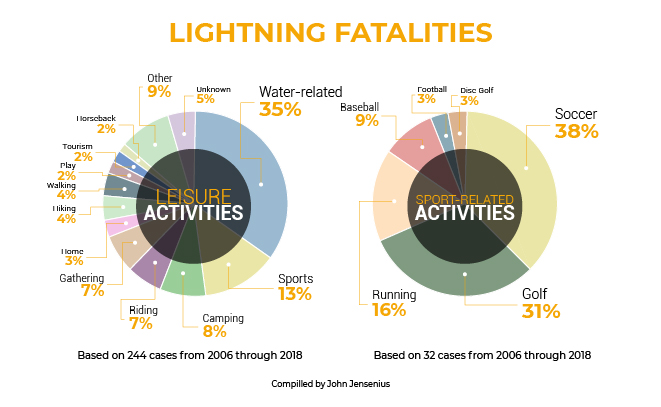 This is the reason why the majority of golf courses have developed a series of guidelines about how to act in thunderstorm situations. Clubs such as Wimbledon, Wells or even USGA (United States Golf Association) agree that, in case of storm, there must not be anyone in the field, where they are exposed to danger. Besides, it is recommended to look for shelter. However, recent researches show that in golf courses there are as many deaths of people playing as of players seeking shelter. This occurs because the warning is not received or is received too late.
The guide for the Organization of a Competition of R&A Rules Limited, valid from 1st January 2009 and reviewed in January 2012, specifies the following in its chapter 6.8 "Harshness of weather and game suspension":
 "Although the Committee should not suspend the game if is not completely necessary, it is the Committee's responsibility to do whatever is possible to protect players from bad weather and lightning so they do not take any chances in that sense."
 "If the Committee have news about a thunderstorm approaching, it should suspend the game before it arrives in order to give time to players to look for shelter or go back to the club house. In order to help players in this aspect, it is convenient to organize an evacuation procedure. This may mean having to send transport to various areas of the field before bad weather to transport players to the club house when the game is suspended. Moreover, it is important that the Committee notify the arrival of a storm to the audience".
Large part of the articles that study the danger of storms in golf courses already suggest that it is desirable to know about the danger before it occurs because when lightning can be seen the danger is already real. Rule 30/30 is not secure in any case.
Inside the Guide for the Organization of a competition of R&A Rules Limited, we also find a specific section named: "APPENDIX H – Tips of security in case of lightning, game suspension and evacuation plan of the field".
Security Tips in case of lightning according to R&A:
Search:
A big and closed permanent building.
If there is no closed building, a vehicle such as a car or van is an appropriate alternative.
If there is not a building or vehicle, go to the less elevated area.
Avoid:
High objects such as trees or posts.
Small shelter for rain and sun.
Big open spaces, wet or elevated areas.
Any metallic object such as golf clubs, prams, golf cars, fences, electrical and field machinery, electrical lines.
But this suggestion is not just a matter of studies. Many golf courses have already installed local storm detection systems that allow to warn well in advance. In this way, necessary preventive measures are taken both for players and staff of the course. As doctor Glen Couchman, golf course injury expert, says: "possibly none of these medical problems will happen in your field, but if they do, an early action will help to minimize the consequences".
Main advantages of having an early warning system for thunderstorm risk prevention.
Local storm detection allows to prevent labor and personal risks derived from lightning strikes. The application guide to determine the need of a detection system, as well as the existent types, are described on the standard UNE-EN IEC 62793.
ATSTORM® System, local expert early warning system for the prevention of thunderstorm risks of Aplicaciones Tecnológicas, is capable to detect all the phases of the storm in real time ("type A" detector in the standards). Because of this, it is the ideal system for labor risk prevention for lightning strike in a vulnerable sport such as golf.
Dual sensing technology for an accurate detection:
Monitoring of the electrostatic field allows to detect storm formation above golf courses tens of minutes in advance, as well as its dissipation, enabling to optimize downtimes.
Besides, the monitoring of the electromagnetic field makes it possible to detect the electrical active storms approaching inside a radius of 40 km.
Fully electronic technology and no moving mechanical parts: in this way, obstructions, wear, breakdowns and maintenance can be avoided.
Uninterrupted monitoring, ensuring the correct information gathering and permanent supervision by a high qualified team.
Expert system: continuous improvement of its algorithms, increasing its adaptation to its location characteristics and consequently the alarm efficiency.
Alert and management flexible systems: it has an APP at its disposal with push alerts in mobile devices for an instant control of the risk of lightning strikes in the field, enabling the user to visualize through a private portal web the risk state of their installations and take necessary preventive actions.
Furthermore, it has a mailing and automation system of relay modules that makes possible the activation/deactivation of alarm systems in the whole field, as well as sirens, signs, etc. In this way, it provides total flexibility to the management of real-time alerts so that all players and workers are informed.
Autonomous feeding system: measuring stations are equipped with solar panels for its total autonomy. In addition, it is also equipped with integrated batteries and additional AC supply that acts as a backup system ensuring continuous operation.
If you want to know more about the ATSTORM® storm detector for your golf course, you can contact us or you can register for one of the information sessions of Aplicaciones Tecnológicas aimed at professionals in the sector.