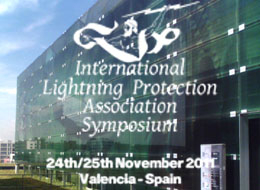 In this meeting the latest studies of the sector will be presented. Our professionals will participate in the round of conferences during the 24th and 25th November in Valencia.
Several members of our technical and R&D departments will participate in the I International Lightning Protection Association Symposium. In this meeting, lecturers will present the latest lightning researches, installation real cases and topics related to lightning protection standards.
Our professionals will talk, among others, about the: basis of the lightning protection, external protection with ESE air terminals, surge protection and storm detectors.
The International Lightning Protection Association (ILPA), in cooperation with Energy Technological Institute (ITE) and Polytechnic University of Valencia (UPV), wants to give the opportunity to all interested parties to participate in a symposium open to the professionals of the electricity sector. The call for inscriptions is open to scientists, engineers, architects, installers, consultants and other professionals involved in the lightning protection systems.
Click here to read the full program and for registrations.