SMART LIGHTNING LOGGER
Smart real-time lightning strike alert and registration system
Real-time information improves safety
SMART LIGHTNING LOGGER is a smart system for real-time alert and recording of captured lightning strikes, which is installed in the down conductor of the lightning rod and, using IoT communication, reports the impact and its characteristics at the moment it occurs.
Real-time control of the lightning protection installation allows immediate verification after an impact to check possible damage, without waiting for the next on-site inspection
continuously monitors the activity in the down conductor of the lightning rod, providing information for each lightning strike on its amplitude, polarity, duration, load, specific energy, date and time.
Advantages of the system
Identification and characterization of each lightning strike
REAL-TIME LIGHTNING
STRIKE ALERTS
The monitoring of electrical activity on the blades allows alerting at the exact moment of impact and thus facilitates immediate inspections and early repairs, which saves significant costs.
CHARACTERISATION
OF THE DISCHARGE
Precise information about the main parameters of the intercepted lightning strike.
CONTROL OFMULTIPLE FACILITIES
SMART LIGHTNING LOGGER allows the allows the permanent monitoring of facilities distributed in different locations with centralised data.
SMART LIGHTNING LOGGER
operation
SMART LIGHTNING LOGGER provides real-time lightning strike alerts in a centralised way and through IoT communication for one or multiple facilities.
Each registered data is transferred via IoT communication to the secure and redundant AT-CLOUD data centre where it is processed and transformed into useful information for the user.
Data Collection
Continuous monitoring of electrical activity in the down conductors of lightning protection systems where SMART LIGHTNING LOGGER is installed.
Accurate diagnostics
Local data is sent to the AT-CLOUD where expert algorithms process it to provide real-time lightning strike alerts and accurate lightning current information.
Objective multi-channel alerts
The processed information is sent to the user via the CONNECT platform. This enables immediate inspections (to determine the urgency and type of response), early repairs and analysis in the event of an incident.
SMART LIGHTNING LOGGER
System features
Real-time lightning strike alerts
Configurable and remotely operable
Real-time recording and characterisation
Local storage of measurement history
Tested according to UNE-EN IEC 62561-6:2018
Visualisation platform:
Multi-channel alert system
SMART LIGHTNING LOGGER information is centralised for multi-location customers and is managed from anywhere via multi-channel management solutions (private web portal, mobile devices, SCADA integration, e-mail, sound alarms, etc.)
Mobile App for visualisation and reception of alarms in real-time.
Real-time visualisation of the status of equipment on a private web portal.
Real-time data integration with SCADA systems through various protocols.
Alerts indicated on the map and in a pop-up element accompanied by sound.
Generation of PDF reports and downloading of CSV format files for studies and reports by the user.
SMART LIGHTNING LOGGER
Technology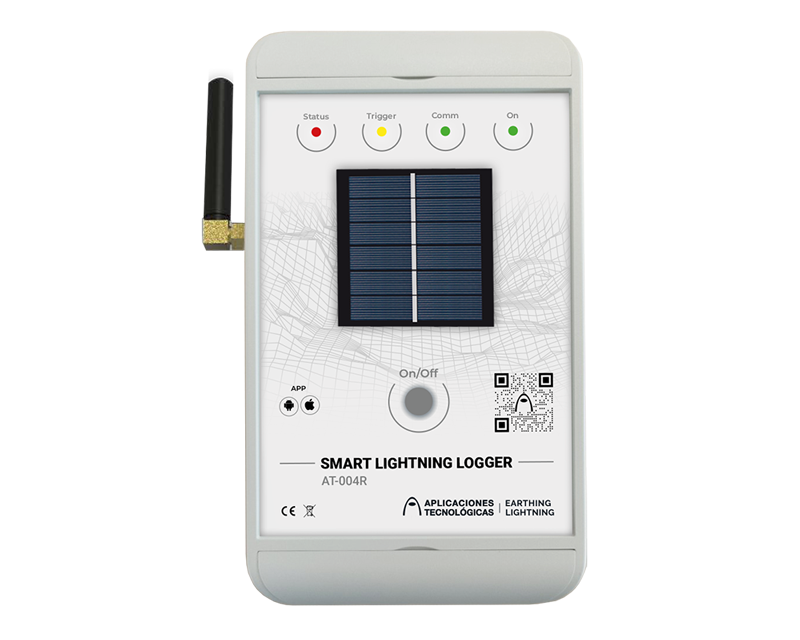 Contact
SMART LIGHTNING LOGGER