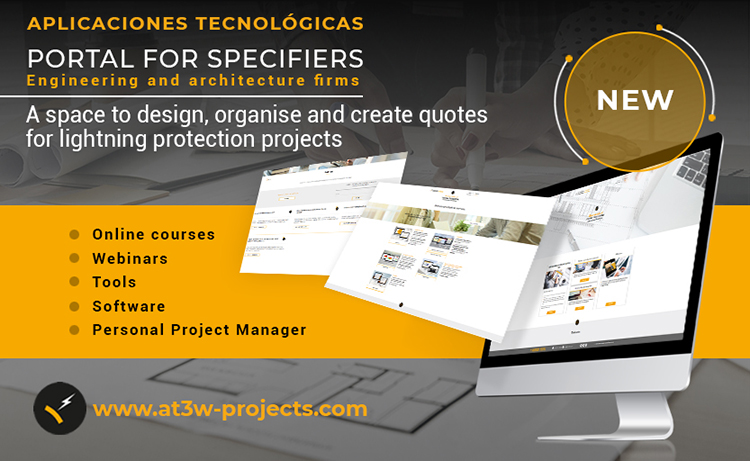 Aplicaciones Tecnologicas S.A launches a new portal web to answer all the professionals needs. Inside the platform you will find:
Advanced course of lightning protection
A complete theoretical-practical training in a virtual classroom of Aplicaciones Tecnológicas that will allow you to realize integral projects of lightning protection. The theoretical-practical lessons of the course include real examples of projects and access to a mentor.
In addition you will have, completely free, the software risk assessment and project design "CD-Risk", for assessing the need and the level of protection of an external and internal system in accordance with existing standards.
Project Management Software
The Project Manager Software is a complete online tool to design, organize and budget in an autonomous and intuitive way comprehensive lightning protection projects.
*To have access to this section, first you must complete successfully the online training.
Tools for Projecting
Collection of free software and resources that will facilitate the realization of your projects:
calculation and design programs, technical data sheets, certificates, details of Autocad/BIM, measurements, etc.
Online Formations
Free and regular online training on specific topics related to lightning protection:
The launch of this new platform is another step to approach to professionals in the sector, also in customer service. The objective is clear, facilitate communication and provide quick and appropriate solutions to any consultation of lightning protection.
Aplicaciones Tecnológicas S.A, expert company in lightning protection system, has all the existing technologies in this field and innovates every day to give the most appropriate solution to each particular case with comprehensive protection, safe and complete against atmospheric electric discharges.
Access to the new online platform of Aplicaciones Tecnológicas by clicking here.