Aplicaciones Tecnológicas, leader in lightning protection, offers free online courses on two of its products: the exothermic welding Apliweld® Secure+ and the ATSTORM® lightning early warning system. During March and April thirteen courses aimed at professionals in the sector will be held.
ATSTORM® Webinar
Lightning strikes imply an important risk for people, services, goods and the environment. Thus, during the webinar, area experts will explain how to prevent accidents caused by lightning in different sectors by using information of the thunderstorm warning system ATSTORM® from Aplicaciones Tecnológicas.
This course is aimed at health & safety professionals, people in charge of operations & maintenance and labour risk prevention managers.
The webinars will be aimed at the following sectors: Oil & Gas, mining, airports and renewable energies.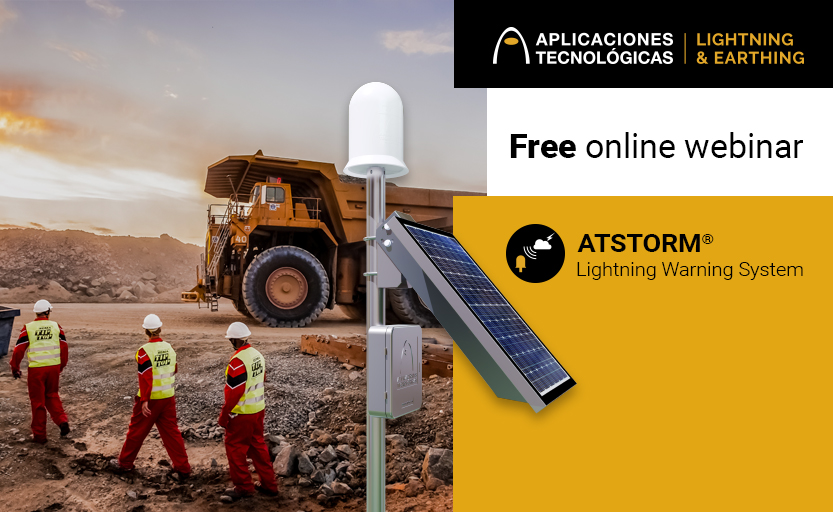 Apliweld® Secure+ Webinar
Our experts will teach a series of webinars on the innovative exothermic welding system in tablet format Apliweld Secure+ from Aplicaciones Tecnológicas. Dedicating an hour of your time, you will learn the main advantages of this system compared to powder charge and the traditional mechanical union.
This course is aimed at engineers, architects and electrical installers.
Below we provide the calendar with all the courses in March and April. Registration is free and availability is limited until full capacity of registered users.
WEDNESDAY 20/03/2019
THURSDAY 21/03/2019
TUESDAY 02/04/2019
THURSDAY 04/04/2019
TUESDAY 09/04/2019
THURSDAY 11/04/2019
TUESDAY 16/04/2019
THURSDAY 18/04/2019
TUESDAY 23/04/2019
FRIDAY 26/04/2019
We invite you to attend those free training courses that are of your interest.