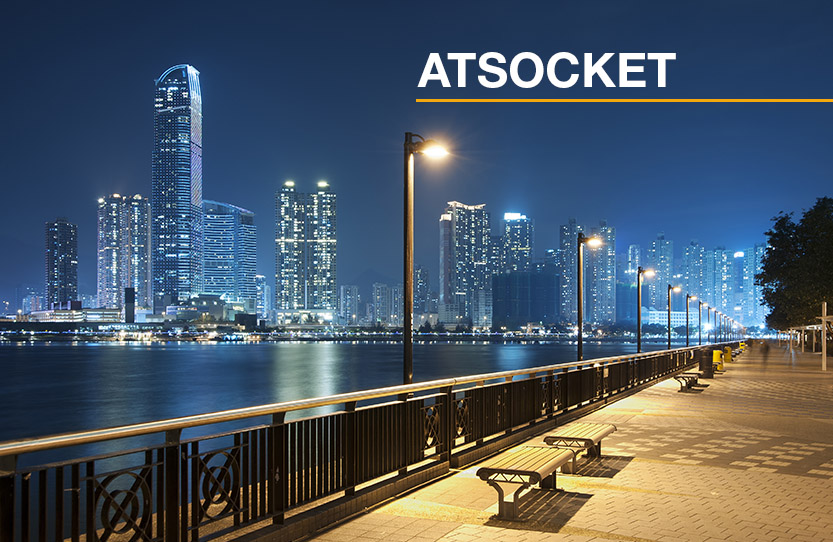 Due to the characteristics of public lighting, they require specific protection against transient overvoltages. The ATSOCKET protectors of Aplicaciones Tecnológicas were designed ex profeso to be used in outdoor luminaire installations, although they have other applications, given how it is possible the connection in the interior of the trunking which feed the socket powers.
We have a wide range of ATSOCKET, we can adapt to every need:
AT-9505 ATSOCKET 5kA: protection against transient overvoltages with disconnection and failure alert.
The ATSOCKET 5kA protector is an equipment of protection against overvoltages type 2 + 3, specially used for the installation of LED lights in outdoor luminaires. It has a thermal fuse to avoid the circulation of current in the luminaires in case of deterioration of the components due to excessive discharges. Therefore, this fuse disconnects the luminaire alerting if there is a failure in the protector.
AT – 9507 ATSOCKET 3kA: protection against transient overvoltages of outdoor luminaires for every line with an easy installation.
As the previous model, its conceived to be installed in the LED luminaires, although with some differences:
The connection of the phase and neutral is interchangeable, so when making the installation is more convenient, since it is not necessary to identify the cables.
Protects every line with low residual voltage.
It does not disconnect the luminaire in case of a failure.
Protection against overvoltages of type 3.
AT-9512 ATSOCKET 5kA GDT: protection against transient overvoltages with more characteristics.
The ATSOCKET 5kA GDT offers a wide range of solutions against overvoltages in the outdoor luminaires.
It has the same characteristics of the previous models, but adding a few more:
Protection against overvoltages of type 2 + 3 (equals the maximum current that the model AT-9505 has).
Fuse and neutral interchangeable connections, which facilitates the installation.
Contains a gas discharger that avoids the small current leakage associated with the varistors.
Furthermore, according to the IEE/ANSI C62.41.2 normative, this model has an orange ground wire special of illumination. This cable can be connected to the general grounding connection or to a functional one.
For more specifications about the ATSOCKET models, download here the data sheet.