The lightning protection system  from Aplicaciones Tecnológicas protects the Nossa Senhora de Aires Pilgrimage Sanctuary, located in Viana do Alentejo, Portugal, is an 18th century building designed by architect P. João Baptista.
It was essential to ensure the external lightning protection of the historical construction that has a Portuguese baroque style. The best option to protect It was the DAT CONTROLER® REMOTE from Aplicaciones Tecnológicas.
The choice was justified due to the technological equipment the product has together with its remote control system. This system is the key, since we are talking about a construction from 1743 in which the entire upper part is topped by a balustrade with pinnacles in the corners, which difficults the access to the roof.
The ideal solution for lightning protection in historical heritage
The DAT CONTROLER® REMOTE lightning arrester from Aplicaciones Tecnológicas, enables to receive, through a remote control system, the confirmation of the correct functioning of the device, without the need to access it with physical equipment, simplifying the maintenance of the installation.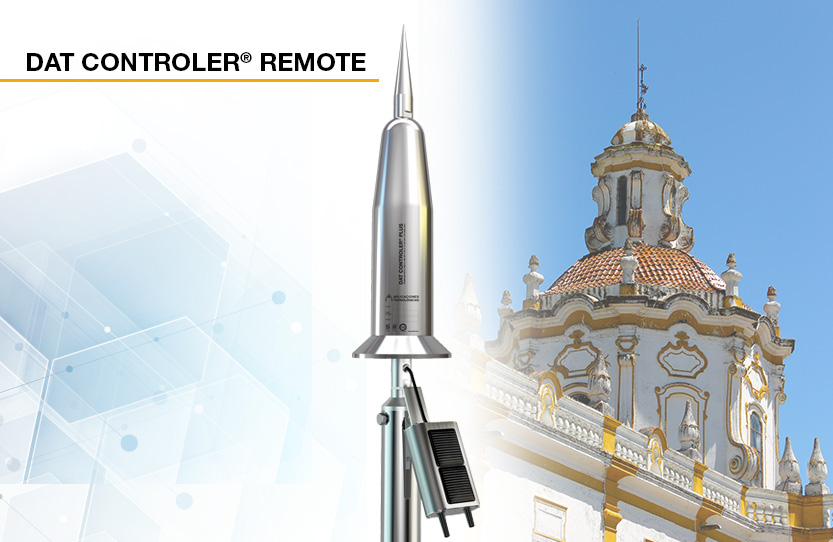 The Nossa Senhora de Aires sanctuary is the meeting point for many pilgrims that reunite during the festivity months of September and October. Nowadays, it is part of the historical heritage of Portugal and receives many tourists throughout the whole year.
For further information about lightning protection of historical heritage, please contact us.