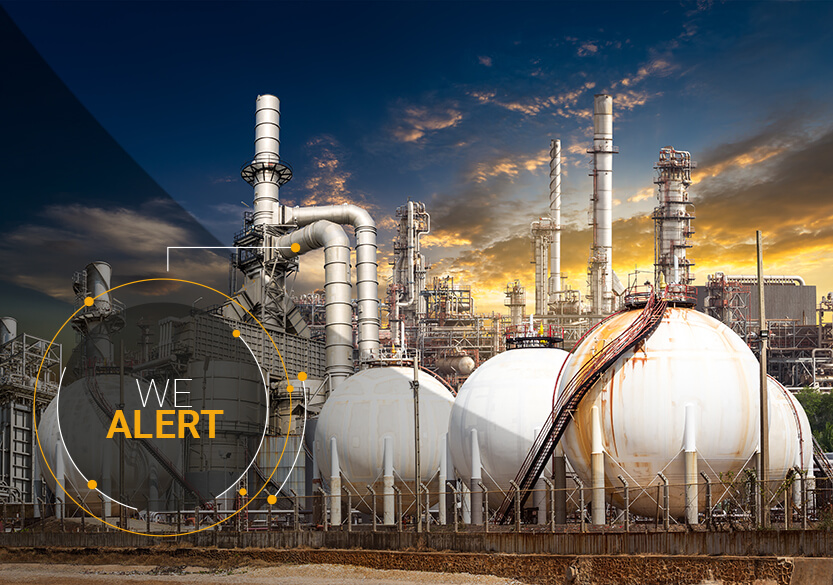 A lightning warning system is a device which warns of lightning strike risk in areas that need to be protected against the effect of atmospheric electrical discharges. ATSTORM is an expert system for storm detection developed by Aplicaciones Tecnológicas which is able to provide local early warnings.
Prevention of risks posed by thunderstorm
It is important to bear in mind that thunderstorms are unavoidable natural phenomena that pose serious threats to people, goods, services and the environment. A lightning strike can lead to important destructive effects. Lightning is responsible for over 20.000 casualties and 24.000 injuries every year all over the world, facts which should be seriously considered.
The use of an expert lightning warning system as ATSTORM®, both for thunderstorms formed over the area to be protected and for incoming thunderstorms (up to 40km), allows companies and public administrations to deploy temporary preventive actions capable of preventing or minimizing any possible damage.
ATSTORM provides data which facilitates decision making, allowing an activity to be stopped only during the time of risk and restarting it once the risk is over.
A non-local detection system in which there is no knowledge about the real local risk conditions may unnecessarily prolong a state of alert which extends the ceasing of the activities more than is needed. ATSTORM® is based on local conditions, being the reason why it optimizes the duration of the alerts avoiding the waste of human resources and machinery.
The only way to avoid or minimize the effects of a thunderstorm is using a preventive system. We have to discard unreliable and obsolete methods like the 30/30 formula.
Lightning warning:
The most employed technologies in lightning detection systems are:
–Based on an electrostatic field sensor. These are systems which monitor the environmental electrostatic field evolution which is produced by the electrical discharges present in the storm clouds. This phenomenon can be detected from the first stage of the thunderstorm formation so the alarm can anticipate the first discharge.
-Based on an electromagnetic field sensor. These systems detect the electromagnetic impulses generated by electrical discharges and consequently they can only alert once the first lightning bolt strikes. Aplicaciones Tecnológicas has developed and patented the Field-Controlled Electrometric Sensor to overcome the disadvantages of field mills, avoiding mobile parts.
Charateristics of ATSTORM®
ATSTORM is a  lightning warning system which brings together both types of sensors in the same device, which is highly effective to warn of lightning strikes since it is able to detect thunderstorms forming over the area to be protected as well as thunderstorms approaching the area.
ATSTORM is a class A and B lightning early warning system according to standard IEC 62793. It is composed by:
Double sensor system
ATSTORM has two sensors in its head to quantify the electrostatic and electromagnetic fields in real time.
It monitors the conditions for the formation of thunderstorms over the target area (physical extension where the alert is needed) with several tens of minutes of early warning. This information is directly related to lightning strike risk.
This is a fully electronic system without mechanical mobile parts, which avoids any deterioration, obstruction or breakdown and therefore provides significant maintenance savings.
It detects active thunderstorms approaching the target area in a 40km radius. It also provides an estimation of the distance between the thunderstorm and the target area. This information is complementary to the information about risk given by the electrostatic field sensor.
Multiple detection system
Each installation of a lightning warning system needs an in-depth study. The device configuration, number of sensors required and its position will be determined by the climate, geography, environment and morphology of the target area.
Thanks to the redundancy of the detection units, which allows our system to adapt to the local and environmental conditions of the target area, ATSTORM guarantees unprecedented accuracy.
Communication system
The communication from the installed sensor is carried out through a private network (VPN), via servers and reaching our control tools.
Our system ensures redundancy with 2G/3G and LAN communication. Its operation is based on a global M2M system with particular channels to ensure data delivery.
Acquisition and processing system
ATSTORM® is an expert local early warning system which ensures an optimal and uninterrupted functioning thanks to:
Servers in redundant locations.
Remote monitoring from AT.
Private broadband communication
Continuous improvement of the algorithms that process sensor readings, gradually increasing its adaptation to the local characteristics.
Power stabilizers to ensure an immediate response from the system.
Sistema de alimentación ininterrumpida (SAI) que apoya toda la infraestructura.
Uninterruptible power supply (UPS) to support the entire infrastructure.
Permanent supervision of the readings from the detection units and the alert system services.
Alerts system
Risk alerts arrive through different channels: private portal web, mobile phones, tablets, emails and the automation with remote relay modules, a multichannel management system so no alert goes unnoticed.
Aplicaciones Tecnológicas has developed an APP for real time push notifications and alerts.
Besides, the system includes a private portal from which it is possible to manage the different detection units in the network. With the APP you can have access to an overall view of all the protected sites, real time readings, alert levels and historic data for analysis.
Remote relay units can be connected to the alarms in a detection system. Each unit incorporates four potential-free or dry-contact outputs. The activation or deactivation is remotely controlled so all the process is 100% automated.
The location of this device is independent of the detection unit since wiring is not necessary. This system allows total flexibility in different alarm systems: public addressing systems, panels, UPS units, sirens, strobe lights, etc.
Areas of application of lightning warning systems
It is very useful for decision makers from the public and private sector to have information from these warning systems to protect individuals, goods and services against the adverse effects caused by thunderstorms.
Besides, the international standard IEC 62793 recommends its installation for:
Responsibles for labour risk prevention.
Loss prevention in operations and industrial processes.
Companies operating in open areas such as mining companies, shipyards, energy companies, etc.
High-risk sectors like oil and gas, chemical or nuclear sectors.
The continuity of basic services:

Telecommunications, energy generation, transport and distribution.
Emergency and health services.

Civil defense, military equipment, barracks, telecommunications, etc.
Infrastructure operators such as airports, ports, roads, highways, cableways, etc.
Responsibles for outdoor activities: sports, culture, tourist, etc.
People in open areas in several fields like:

Works, sports or outdoor activities.
Competitions and multitudinous events.
Agricultural, farming and fishing activities.

Public administrations responsible of open areas like parks, beaches and municipalities.
Civil and environmental protection.
Sectors with an intensive use of electronic technology to protect sensitive goods:

Data processing centers.
Industry.
Hospitals.
Computer systems.
Electrical or electronic controls.
Emergency, alarm and security systems.

Structures with outdoor areas open to the public.
It is important to remember that lightning warning systems are preventive instruments which do not replace lightning protection systems but only complement them. Only when lightning protection systems cannot be undertaken, the installation of lightning detection systems could be the only option.
If you require any further information, do not hesitate to contact us. We will carry out a complete a study of the area to protect and will provide a solution adapted to your particular needs.