Aplicaciones Tecnológicas, leader in lightning protection systems, is organizing free online courses on the exothermic welding system Apliweld® Secure+ and on ATSTORM, a lightning warning system aimed at professionals in the sector. During February and March we will be holding eleven webinars on different topics.
Training courses on two products will be offered:
Courses on ATSTORM®
The online courses on storm detection systems are aimed at health and safety managers, experts in labour risk prevention, operation managers and maintenance supervisors.
We will be explaining how our storm detection system ATSTORM® provides information about thunderstorms forming or approaching the area to be protected. This information allows to take preventive actions to minimize or avoid the risks of a lightning strike, which could affect people, goods, services and the environment.
Free webinars will be held on ATSTORM. These will be aimed at three different sectors: lightning detection for renewable energy, oil & gas and the mining industry.
Courses on Apliweld® Secure+
These one-hour courses are aimed at architects, engineers, electrical installers and other technical personnel.
Our technical team will be explaining the improvements offered by our exothermic welding system in tablet format, Apliweld Secure+, compared to traditional mechanical unions or welding powder. You will also get to know its key advantages, among which operational cost savings and labour risk prevention are to be highlighted.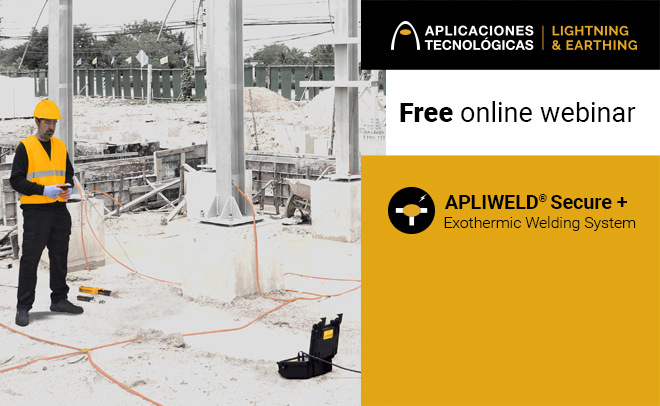 A calendar of all the courses for February and March is detailed as follows:
Tuesday, 19th February 2019
Wednesday, 20th February 2019
Tuesday, 5th March 2019
Thursday, 7th March 2019
Monday, 11th March 2019
Wednesday, 13th March 2019
Thursday, 14th March 2019
Wednesday, 20th March 2019
Thursday, 21th March 2019
We invite you to attend those free training courses which may be of interest.