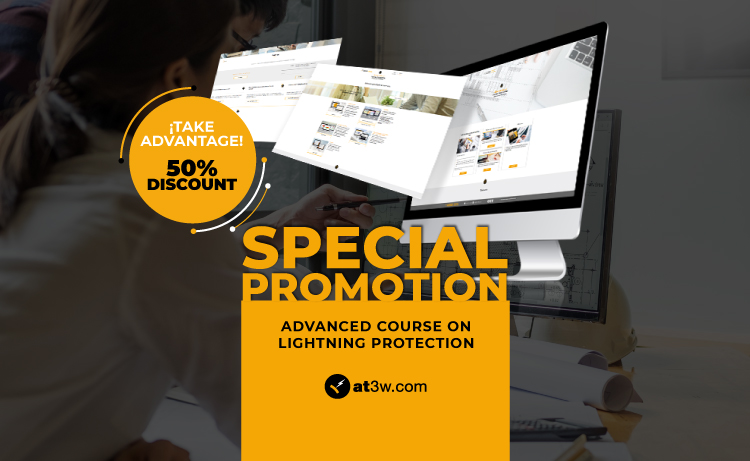 Aplicaciones Tecnológicas offers you the Advanced Course on Lightning Protection with a 50% discount. This training provides the foundations, method and practical cases so that architects, engineers, electrical contractors, technical personnel of companies or professionals related to this sector, can design professional lightning protection systems based on the main international regulations.
The Advanced Course on Lightning Protection is a complete theoretical-practical training of Aplicaciones Tecnológicas that is organized into eight didactic units. They cover the different aspects of lightning protection. Each unit consists of a theoretical syllabus, explanatory videos and a level test:
Nature of Lightning.
The phenomenon of lightning: its parameters and effects.
External lightning protection systems with Early Streamer Emission (ESE).
Basic elements and requirements of a lightning protection facility.
Internal lightning protection systems.
Surges and how to be protected from them.
Standards context.
How to assess the risk of lightning strike and related regulations.
Lightning protection system design using AutoCAD.
Lightning protection system design using CD-Risk Pro.
Practical cases.
Examples of building protection by lightning rods and meshes.
Project Manager.
The course is carried out entirely online, and all the theoretical-practical lessons of the course include real examples of projects and access to a trainer who will monitor your progress. In addition, after successfully completing the course you will obtain the license to use the CD-Risk Software for risk assessment, as well as access to the Project Manager platform.
Take advantage and enroll now with a 50% discount in the Advanced Course on Lightning Protection of Aplicaciones Tecnológicas. For more information click here.