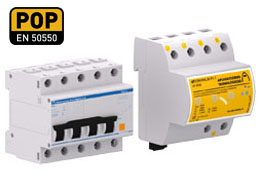 Aplicaciones Tecnológicas ATCONTROL KIT is a combined surge protector certified in compliance with EN 50550.
ÍTACA, official and independent Laboratory of Electrical Safety, has just certified our complete surge protection kit, which includes single-phase/three-phase protector combined against permanent and transient overvoltages, shunt release and main circuit breaker.
As a summary of the EN 50550 standard specifications, overvoltage protectors may actuate on circuit breakers or on residual current devices. It is essential that they act with a delay in order to avoid incorrect triggering. The standard fixes a minimum non-actuating time of 3s for 275V and a maximum break time of 0,2s for 400V.
Download the ATCONTROL KIT product sheet.