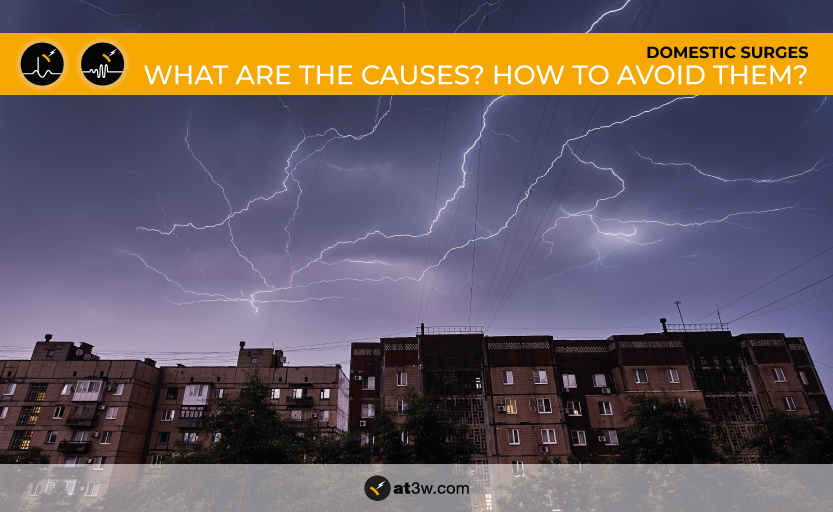 A surge is an increase in the voltage in the electrical network that can cause damages to the installation and electronic equipment in your home. Your home, given the continuous digital transformation, contains even more electrical and electronic equipment, with more complex and important functions.
Why do you need a surge protector?
Big appliances (washing machines, fridges…) are robust appliances that withstand transient surges of atmospheric origin well, without suffering obvious short-term damage. Even so, they can still suffer deterioration or degradation of their components.
The more frequent damage is caused in electronic devices such as computers or televisions, which are becoming increasingly more expensive and sophisticated, often interconnected, which multiplies probabilities that an surge could affect them.
In the case of smart home systems, a failure in electronic control elements can have disastrous consequences.
Should I install surge protectors if I have a business?
In commercial premises the problem is similar. Telecommunications, electronic systems and security devices are essential and often are interconnected too. In many of them, there are internal networks of computers with cables that travel important distances, sometimes joining equipment and devices from different buildings as well. Data lines and connected devices are designed for low voltages, therefore surges of an atmospheric origin can cause serious damages.
Despite the building have a lightning protection system, surges can enter equipment through the power supply lines, telephone, tv aerials or earthing system. They are lines coming from outside that may be affected by the electromagnetic effects of lightning, both from a discharge captured by the external lightning protection system and from a distant lightning strike. In the case of buildings without an external protection system, risk is higher.
How can I prevent surges?
Aplicaciones Tecnologicas, S.A. has a wide range of surge protectors that effectively safeguard the most common electrical and electronic devices of domestic and small business use. A defence barrier to the lightning current in each of the lines that connect the home or commercial premises and their exterior connected devices.
Power Supply Protection
KIT ATCONTROL/B PT
Complete kit that includes a combined protector against permanent and transient surges, emission coil and general automatic switch.
Permanent surges
Protectors from the KIT ATCONTROL/B series act when they detect a permanent overvoltage by firing the emission coil connected to it (S1, S2). This emission coil triggers the trip of the General Automatic Switch, protecting the equipment installed downstream.
The temporary overvoltage warning system is formed by 2 light indicators: green (correct power supply) and red (overvoltage). It is provided with a test button in order to check that the installation has been correctly carried out.
Transient surges
KIT ATCONTROL/B protectors also actuate when detecting a transient overvoltage, driving the current to the earth and reducing the voltage to a level that does not damage the connected equipment.
Tested and certified as a type 2 protector in official and independent laboratories following the IEC EN 61643-11 standard.
It has a thermodynamic device for disconnection from the network in case of degradation and transient overvoltages warning system that lights up if the protector withstood an overvoltage over its capacity. Indicates that the device should be replaced.
Protection for Telephone Lines
Protector for telephone lines
Efficient protection for analogical and ADSL in modules with coordinated medium and fine protection for a single pair of wires.
Protection for telephone lines as well as the digital and analogical equipment connected to these lines.
Discharge takes place in an internal encapsulated element, with no external flash.
Module includes both common and differential modes of protection
Low residual voltage
Very fast response
Connection of conductors via mechanical pressure points, which provides better lightning current withstand capacity than usual telephone connectors.
ATFONO SPD has been tested in official, independent laboratories, obtaining their characteristics according to relevant standards.
Surge protectors for TV lines
Wide range of protectors for different frequencies and connectors.
Due to their placement, aerials are one of the most exposed elements to lightning discharges. Even when an external lightning protection system exists, the discharge secondary effects can affect the TV or RF signals.
ATFREQ Surge Protective Devices protect the signal cable deriving the induced and conducted surges to ground, thus avoiding damages to the communication and TV equipment as well as connected devices (video, DVD; decoders, home cinema, etc.)
Optimum coupling with imperceptible losses
Small attenuation in the signal even for very high frequencies
Short response time
No deflagration
Compact size
Specific connectors for each application
Surge protective devices for data lines
Single protector for local networks
ATLAN SPDs are specifically designed to avoid failures in data transfer between equipment within the same network. They protect the input of the electronic circuits of the network cards against harms due to transient currents.
ATLAN is a protector with RJ45 input and output connectors, with a withstanding current of up to 2kA for each pair of lines.
It is designed to individually protect each and every piece of equipment connected to the computer network.
External protection
The installation of an external lightning protection system avoids direct impacts on the structure and the pass of the lightning current through the equipment.
Aplicaciones Tecnológicas, S.A. recommends the installation of a lightning protection system with an ESE DAT CONTROLER PLUS, characterised by its quick response to lightning approach, acting faster than any other element within its protection area, driving lightning current to earth through a safe path.
Lightning protection system installation
The installation of Lightning Protection System DAT CONTROLER PLUS must follow the standard UNE 21186: "protection of structures, buildings and open areas by means of lightning rods with n Early Streamer Emission device".
Basic installation rules are the following:
The lightning air terminal should be installed at least two metres higher than any other element within its protected area.
Each air terminal should be connected to the earth system through a down-conductor, placed preferably outside the structure. These should be, where possible on different facades of the building.
The down-conductor should be installed ensuring its route to earth is as straight as possible, avoiding sharp bends and upwards trajectories.
3 conductor clamps per metre should be installed along the down-conductor
The down-conductor should have a minimal section of 50mm2. Due to the impulse nature of lightning current, flat conductors (tapes) are preferable as round conductors have a smaller surface area for the same section.
Down-conductors should be protected from mechanical impacts by installing ground guard tubes, covering and protecting down-conductor up to 2m above ground level.
Earthing resistance value measured using conventional equipment should be lower than 10 Ω.
All earthing should be bonded to each other and to the general earth ring or system.
If you need expert advice on surge protection please contact us or if you would like to review our selection guide for surge protection devices, you can download it here.