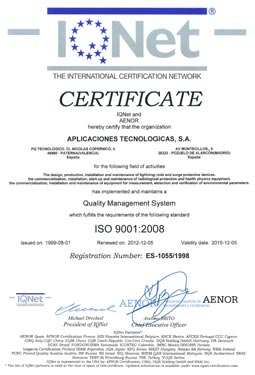 We improve day by day to offer safe and efficient lightning protection products.
Having committed to developing effective products with the highest manufacturing quality required by national and international lightning protection standards, we have renewed our ISO 9001 quality certification.
Aplicaciones Tecnológicas highest priority is to supply efficient and safe products, with innovative technology that offers the highest quality and meeting or even exceeding the national and international standard requirements, achieving the maximum guarantee and the best solution for our customers. We are aware that our products, services and processes must be oriented to the full satisfaction of the client.