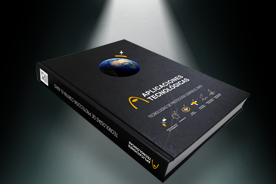 Offering the right product for different industrial sectors, achieving that such product is suitable for the chosen lightning protection solution, is more complex than it first appears, since key factors for the safety of persons, services and goods are involved.
Aplicaciones Tecnológicas, S.A. new catalogue, a hardcover book as usual, coincides with the 30th anniversary of the company. During these 3 decades in the market, Aplicaciones Tecnológicas, S.A. has acquired an international dimension and experience in various fields of application such as industry, telecommunications, energy, transport and many others explained on the inside pages.
We have gone for a catalogue that provides comprehensive and complete solutions for a professional public that will find there data about our products and also selection guides, practical cases, information about normative, etc. thus being a useful working tool for making decisions about installation and purchase.
This catalogue comprises all product branches, with more than 2.500 references shown in images and datasheets along its more of 400 full colour pages. Despite its size, the guide is quick and direct for any consult thanks, among others, to three different indexes and to colour codes and icons.
Among the product novelties, local thunderstorm detection section expands. The ATSTORM® of last edition has now changed in its aesthetic and incorporates new features. There are also novelties in Early Streamer Emission air terminals, now with the possibility of remote verification and the latest smart lightning event counters. The family of surge protectors grows and so does APLIWELD® exothermic welding in tablet format, versatile and easy to use. The cover has also been renovated, showing a more attractive image that refers to the global dimension that characterizes our company.
The catalogue 2015-2016, published in four languages (Spanish, English, French and Portuguese), has been delivered to our distributors during the last weeks. To receive a free hardcopy, please write to marketing@at3w.com.